I can only presume its a dead bike as it has no pulse to propel it. I do love a good 'term' for something.
Please feel free to educate me on any other cycling terminology that's amusing or the real reason why a dead bike is a dead bike.
There are many times I want to cycle to school with Ol but cant.
Wednesdays are a good example. In my effort to get people off their arses, we started a Walking Bus one day a week. One day a week meant it was manageable for even the most hardcore of bone idle parent. Even those at the mercy of their work schedule were cajoled and coerced into submission.
But it also meant that I had to, if I were to be such a vociferous advocate of the merits of walking and more importantly, not driving, be there week in week out to help coordinate the bus. It is sometimes thankless (although not very often), the kids love it and thanks to the school being bold enough to prevent parents parking along half of the road (dont ask) we have managed to create social convention.
It is now very much a social faux pas to drive on that particular day. It has made the road a wonderful environment for everyone and its means that the staunch car users get a better deal, as they no longer have to negotiate the hideous traffic outside school. They simply drop off their children with us and leggit. No waiting for ten minutes to turn around or the ever familiar gridlock of a small residental street plagued with the school run traffic.
So back to the cycling issue.
There is also the problem that the school has no cycle parking. Not a sausage. Ol has a nice bike. I'm not about to leave it chained to a fence that is easily cut.
This left me with a dilemma. If he cycles to school, what to do with his bike??? Or if he doesn't cycle there, how to get his bike in so he can at least cycle home?
Today I attempted my first basic tow. The plan was to strap the front wheel with bungees to the Blackburn rack on my bike.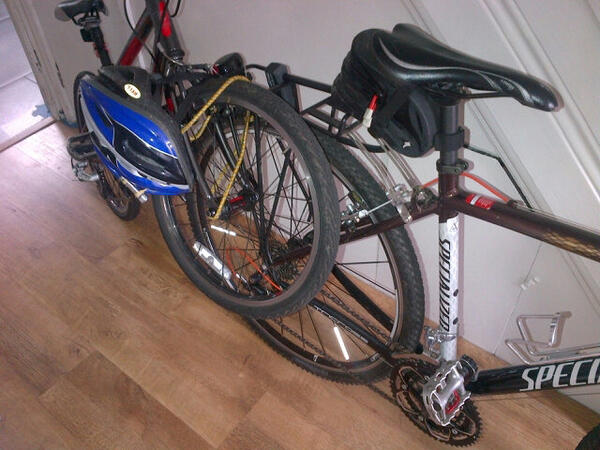 I had only got 20 metres along the road by the time it had gone sideways and was trying to sneak past me! A few minor adjustments meant that as long as we went in a straight line it was ok. (we? Why am I saying we??)
Roundabouts were a disaster. Never to be repeated and in the end I got off and pushed. But nevertheless I got his bike and mine to where it needed to be.
It did make me long for the simplicity of the tagalong. If you are at this stage with your kids enjoy it. It all becomes some much more complex when they are independent cyclists. I have thought about a trailgator, but I am resisting as I am sure we can find a solution from what we have.
Any thoughts or suggestions very gratefully received!
I probably need a good engineer.....